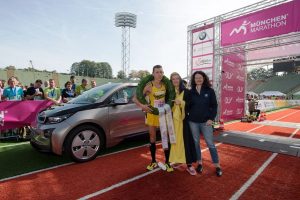 The 29th MUNICH MARATHON was a day of records. The weather was at its best, the number of participants of over 20,000 was higher than ever and BMW sent for the second time a zero-emission vehicle leadership into the race: the BMW i3.
It is a matter of honor that BMW is right at the front at the MUNICH MARATHON. Finally, this is a home game and the route passes many distinctive buildings of the BMW Group, for example, the "Vierzylinder", the BMW Museum, the BMW Welt. "We are especially pleased of the Munich Marathon, which starts almost outside our front door", notified Stefanie Wurst, Director of Marketing BMW Germany.
The more than 20,000 assets were led of course by a highly energy efficient representative of the main sponsor BMW: from emission-free BMW i3. This combination – electric vehicles and Munich Marathon – has a long tradition, because also at the Olympic Games in 1972 was accompanied by a BMW 1602 the marathon and race walking competition.
Also in the wider community of the MUNICH MARATHON BMW played an important role: For organizational and distance rides 25 resource-efficient BMW vehicles were used, on the Odeonsplatz BMW staged a whole world for the many spectators, at the two-day sports fair in the event arena in the Olympic Park, guests could have their picture taken next to the lead vehicle BMW i3.