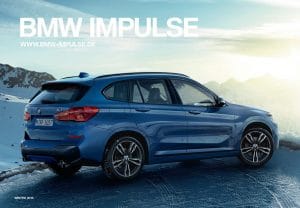 The competition for new customers in the premium automotive sector is intense. The development of new target groups is becoming increasingly expensive. How can interested parties be better introduced to the BMW brand? And how can you make customers from prospective targeted and accelerated? BMW continues with "BMW Impulse" on a special support program for those interested parties. The magazine "BMW Impulse" is the centerpiece of this program.
The latest winter edition of the BMW Impulse underlines even more the exceptional features of the media concept oriented on the interested parties. The BMW Impulse care program is aimed at prospective customers BMW and makes the entire diversity of the BMW brand experience. Among other exciting insider actions that bring the interested parties in a direct dialogue.
The best example: the BMW Impulse insider visits to the BMW International Open and the IAA. No less exciting: Insights into the development of the new BMW 7 Series and a detailed view at the new BMW X1.
Of course, in this issue here: many dialogue options and opportunities to participate. For an active and continuous dialogue with the customers of tomorrow.