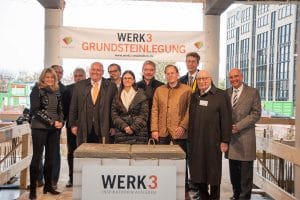 In Werk 3 old meets new, harsh industrial charm is combined with modern loft space – the unique architecture concept in Munich is reality now. The laying of the foundation stone of Werk 3 is an important step in the development of the Werksviertel at Munich Ostbahnhof.
'This unique project Werksviertel is a showcase for the city of Munich', explains Prof. Dr. Elisabeth Merk who supports the project as Urban Development Councilor. 'Werk 3 is an important step for the success of the entire project.' 100 guests from local politics, economy and culture joined the foundation stone ceremony on November 7th. On the former Pfanni site Werk 3 is now created as the first element of the vibrant Werksviertel. It's not only the architecture that is unique in Munich. The existing building is being modernized, increased and expanded by some components. The result is a building with seven floors, a basement and underground parking on the 11,000 m2 site.
The exciting mix of usage is part of the concept: In Werk 3 loft offices, individual trade and showroom space, restaurants, bars, entertainment and inspiring studios arise next to each other. Well-known artists such as Ugo Dossi and Prof. Olaf Metzel will have their creative home there in the future. The site means a lot to Werner Eckart as managing director of OTEC GmbH & Co. KG and property owner. His grandfather founded the Pfanni works in Munich, which's builings shaped the appearance of the quarter . 'With Werk 3 we achieve a particularly important milestone on the way to urban development of our former Pfanni factory site', says Werner Eckart. The duration of the construction work is scheduled until fall 2015.
For more information visit www.werk3-muenchen.de.