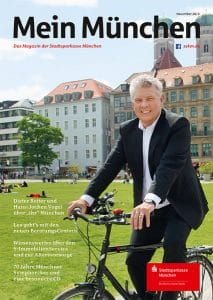 "Mein München", the customer magazine of Stadtsparkasse in Munich proves, that a regional media concept can cause success. The Media Concept "Mein München" was awarded repeatedly time with the FOX AWARD in gold this year. So the question is, how a bank can create a successful long lasting customer loyalty? Successful customer loyality is one of the most important goals of the Stadtsparkasse Munich, which is achieved with the new concept of "Mein München".
By Munich-related articles (portraits, tips, social commitment, expertise in the Munich property market, etc.) in combination with financial issues that are presented by employees, the Stadtsparkasse Munich creates local ties, documents their roots in the city, creates closeness and trust and differentiates itself as compared to other financial services. Result: a high reader loyalty, measurable improved image values, a clear increase of the dialogue intensity with the receivers as well as concrete distribution success.
In the current issue we take a look at the lord major of Munich's job in the course of time: in private interviews with the ex- lord major Hans-Jochen Vogel and Dieter Reiter.
Further we report about the specials of the new, modern Service Center in Moosach, we give tips for retirement provisions and we explain the girogo-tool of the SparkassenCard as well as an interesting type of investment: DuoRendite equity-linked bond.
The Magazine