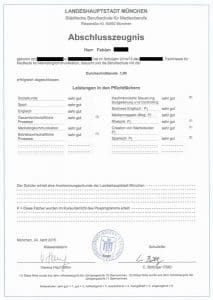 Our trainees are among the best. Sometimes it requires hard work, dedication and a willingness to take responsibility to achieve this. The instructors at heller & partner enable their protégés an instructive and exciting training. Our trainees are encouraged but also required and in the demanding final exams they regularly belong to the IHKs best. This shows that we are precisely right with our training program.
Also this year, a young colleague has completed his training excellently and demonstrated with the best possible GPA of 1.0, that he is among the best.
We congratulate you very warmly for this wonderful result, dear Fabian!