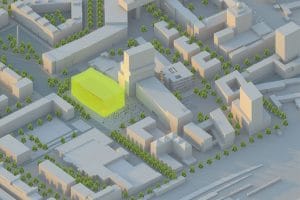 The decision for the Werksviertel as location of the concert hall is a milestone for the future development of Munich. All nine owners who are involved in the development of the area welcomed the choice of government: "We are very pleased for the Werksviertel being the new cultural and musical center of Munich. Today's decision confirms that we are on the right track with our concept for this location."
At the area at Munich Ostbahnhof a lively new city district arises that links residential, leisure and work. The territory itself is not conceived as an empty drawing board, but as a process, which combines new development with existing parts.
During the last years the district has established itself to a hot spot for creativity and culture. There are a lot of different stages for music and art, including Tonhalle, Technikum, Nachtkantine and White Box. Concert hall and musicians are finding a very inspiring environment. Nearby you can also find a primary school, kindergartens, flats, a park, gastronomy and shopping facilities. Classical Music obtains direct access to the people.

Already in October the concert hall location got 81 out of 100 possible points in the official report of Albert Speer & Partner. Further reasons for this location are the prompt feasibility until 2021 and the very good transportation link via Munich East. The construction of the concert hall shall start before 2018. The room concept of the government is planning a big concert hall with 1.800 seats and a small hall with 300 seats.
Further information:
www.werksviertel.de